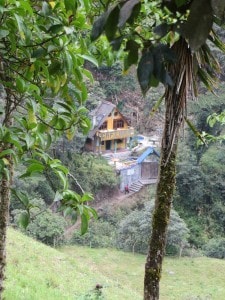 The bright yellow house down in the green jungle valley below beckoned us. We were in Baños, one of the most popular tourist towns in Ecuador, walking up a dirt road off the tourist radar, beyond all the hostels, tour companies, and restaurants and into the surrounding farmlands. Huge greenhouses growing babaco fruit (which resembles a papaya but tastes completely different) and tomates dulces ("sweet tomatoes"—another tropical fruit that resembles a tomato but is unrelated) dotted the hillsides. The yellow house had a huge sign on it which read, "Cafe Bar." We strained to see a road to the place, perhaps in the trees behind the building… But it looked like it was down there by itself, in the jungle across a river canyon, with only a footpath leading to it.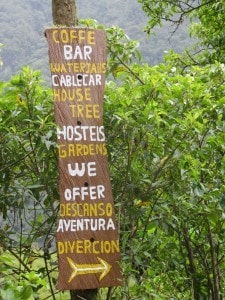 A little farther up the road we found a sign, at the head of a trail leading down the hill between two fields.
"Let's go check it out!" we agreed.
We followed the path down the hill, and eventually arrived at the edge of the river canyon. Spanning the canyon was a cable, from which hung a little chair which visitors sat on to make the crossing. We looked across to the other side and saw a man in a red jacket running down the trail to meet us. He hopped into the metal chair and zipped over the canyon to where we stood.
"¡Hola!" we greeted him.
"¿Hablan español?" He asked. (Do you speak Spanish?)
"Sí!" we nodded, and he smiled, looking a little relieved. He welcomed us to Toboganes Nahuazo and sent each of us across the canyon in the chair on his zip line.
I cheered at the thrill of sailing over the river high in the air. When he joined us on the opposite bank, he pointed out a waterfall which hadn't been visible from the other shore.
"Would you like your picture taken?" he asked. He took our photo and we proceeded up the trail as he shared a little of the history of the place.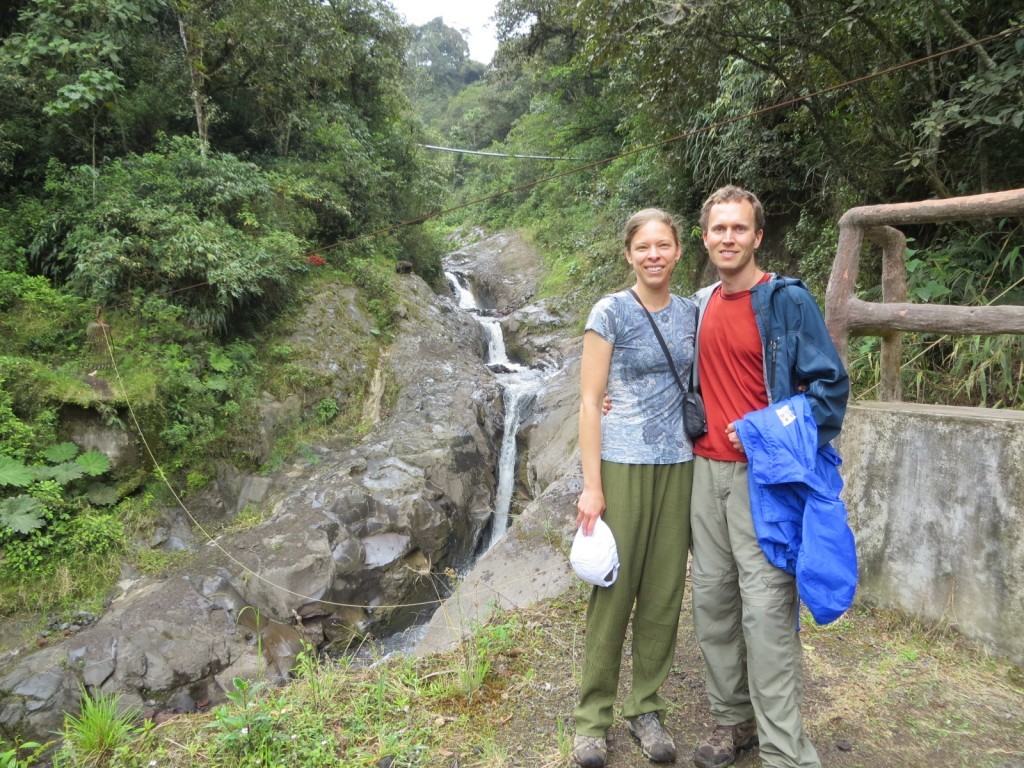 "This land has been in my family for many years," he said. Over the next several minutes he described his ambitious plans for the property—hydraulic power, a tree house that could be rented out to guests to stay in, a swimming pool, and other attractions.
"We used to have a nice swimming pool, but the river flooded and washed it out, so we'll have to rebuild it," he said.  "The river is unpredictable and it changed everything."
"How many visitors do you usually get?" we asked him.
"Not very many. Sometimes tourists doing the horseback tours come down here. Yesterday I had a guy from Switzerland; he brought his guitar with him.  He didn't speak much Spanish; we used a lot of sign language.  We roasted some meat on the fire."
We went inside the yellow house, with a table in one corner, a fireplace in another, and a bar from which the man sold various drinks and refreshments. We asked for tea and the man led us back outside, showing us various plants from which we could choose our tea. There was peppermint, cedrón (lemon beebrush, another flavorful herbal tea common in Ecuador)—and others. We both decided on cedrón, so he plucked a few leaves from the tree and encouraged us to enjoy the hammock on the porch while he went in to prepare our tea.
After relaxing for awhile and consuming our large mugs of fresh tea, our guide proceeded with the tour. He showed us an empty hot-tub sized hole in the ground.
"When I have overnight guests we fill up the hot tub with hot water we warm up with the fire. We keep the fire going and the guests can sit in the hot tub—it's very romantic," he said.
He pointed out some of the native plants and told us about some of their practical and medicinal uses. "If you're really poor and can't afford deodorant, you can use this," he said, grinning and plucking a fruit from a wild tree and snapping the fruit in half. He handed us the fruit to smell. Sure enough, it had a strong aroma and would probably do well as a deodorant!
"If you're out hiking and need some toilet paper, you can use this—it's safe and it won't cause a rash or anything," he said, handing us a large leaf from another bush. The fuzzy leaf felt as soft and comfortable as any tissue you could find at the store.
Our new friend pointed out orchids and other plants and flowers along the trail, telling us interesting stories and facts about them until we came to a very tall ladder leading up to a tree house high in the air.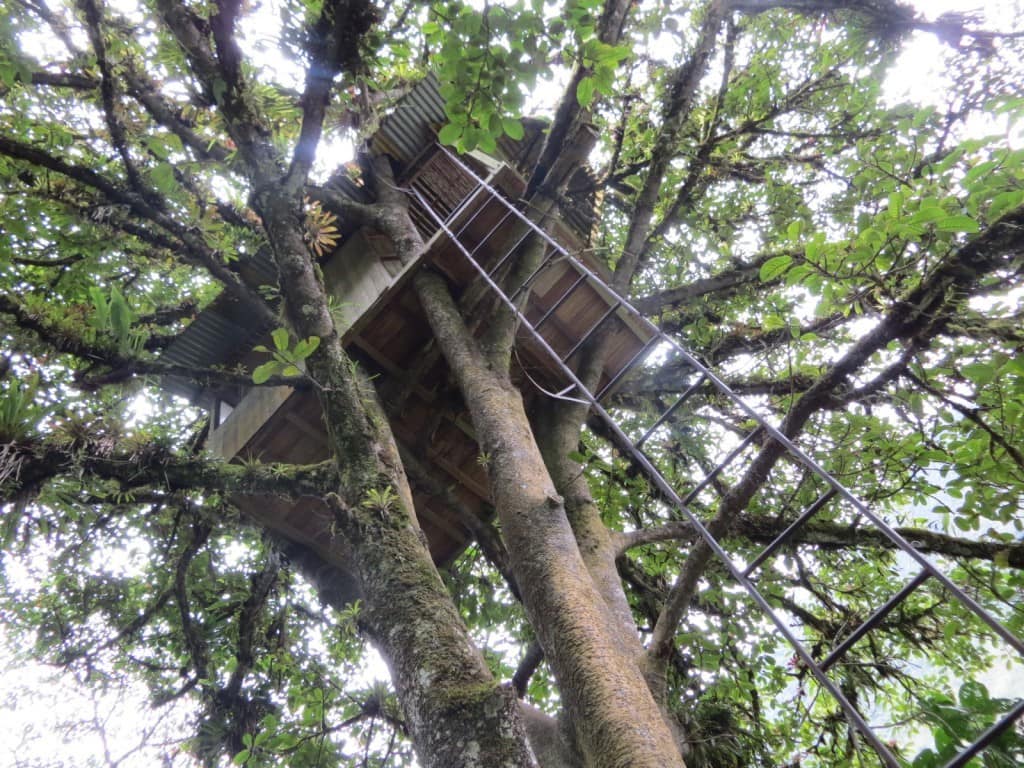 "This is the tree house I want to furnish and rent to guests," he said. He held the tall ladder steady for us as we climbed up to have a look. From the balcony we looked down into the canyon with the river, and could see the waterfall and beautiful surrounding mountains through the mossy, bromeliad-laden branches. Keith and I agreed we would love to stay in the tree house someday!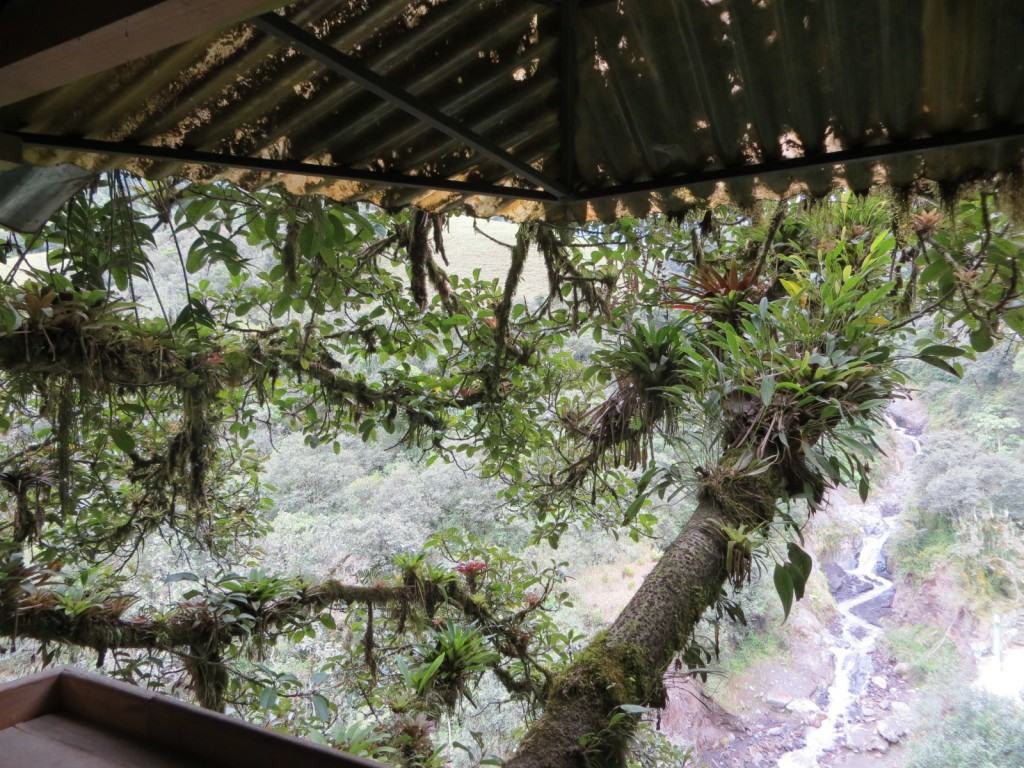 From the tree house, we were taken to a swing, hanging from a high branch in one of the tall jungle trees.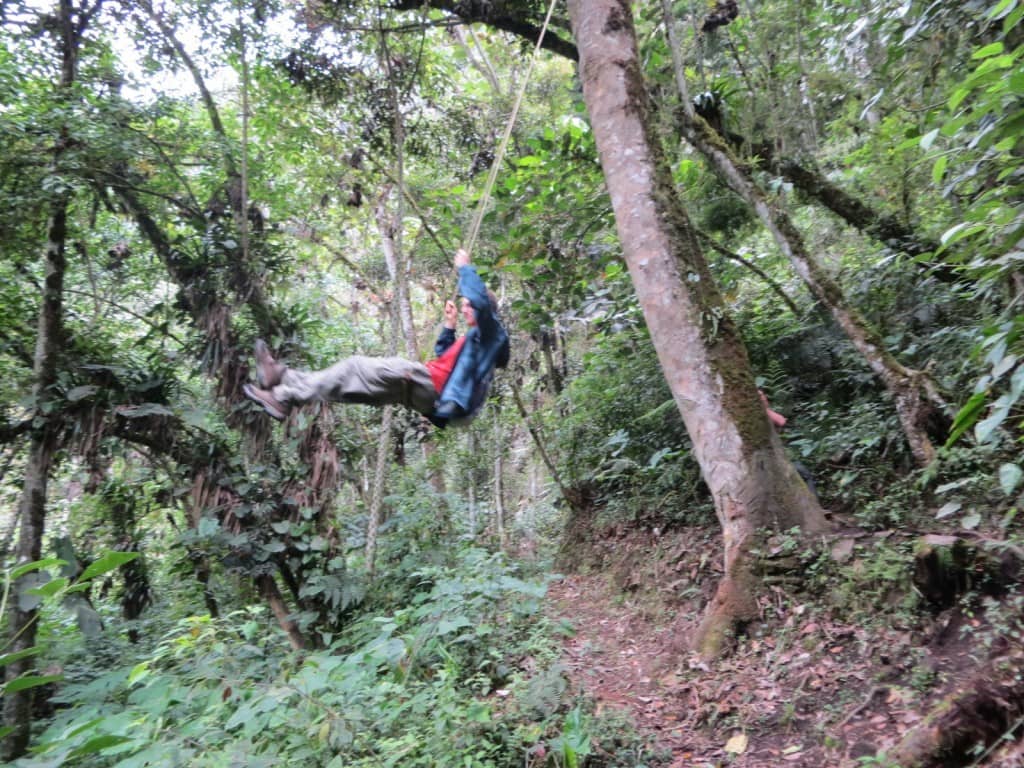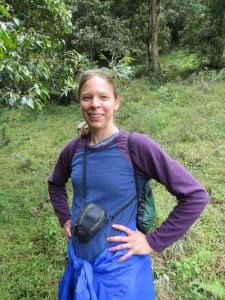 We took turns swinging and taking pictures before our guide took us up a steep hillside, hacking at the overgrown trail with his machete. At the top of the hill he picked some plants and quickly weaved a wreath of them for me, placing it on my head like a crown.
He led us across a field, stopped, and pointed down a trail.
"If you follow this trail, you'll get to the road that will take you to the hot springs," he said. We thanked him, paid him for the tea and zip line ride and gave him an extra tip for showing us around and teaching us all about the local plants. He smiled broadly and bid us farewell.
Watch the video of our experience at Toboganes Nahuazo:

We walked on toward the hot springs, talking about the adventure we had just enjoyed. "Can you imagine if we didn't speak Spanish?" I asked. "That guy wouldn't have been able to tell us about his plans for the place, or the plants, or tell us about the tea he was making for us. Everything would have been hand gestures! We wouldn't have had that rapport that we developed with him."
Speaking the language of the country (Spanish, in this case) has definite advantages. The locals appreciate us for it from the get-go. As a result, we find that they will often give us more attention, better prices, and better service than the next tourist who makes no effort to communicate with them in their own language. It also makes it easier for us to explore off the beaten tourist path, giving us unique and often very rewarding experiences that nobody writes about in the guidebooks. These experiences are generally free or far cheaper than the usual adventures offered by the tour companies. It opens up doors for new friendships and gives us a glimpse into the local culture that we would otherwise never have.
I make it a habit to learn at least the basic phrases of a country whenever I travel abroad. A few weeks before departure to a planned destination, I pick up a phrase book or two, download an app or two, and see what I can find online—especially for audio materials so that I can at least approximate the proper pronunciation of the new language. There are certain phrases I always learn—basic greetings, shopping-related phrases and numbers, "Where is the bathroom?" and important phrases related to my diet such as: "I am a vegetarian." "I can't eat meat, chicken, or fish." "Does this have meat, chicken, or fish in it?" etcetera. If I have time, I learn more. I have dabbled in Romanian, French, and Swahili for various trips abroad. Most of my other travels have been to countries where English or Spanish is spoken.
Here are five tips for quickly learning a bit of a language before a trip:
Don't learn vocabulary words in isolation. Start by learning phrases you'll be likely to use over and over.

Try to get a recording (ideally by a native speaker) of each phrase you want to learn to ensure you're pronouncing it properly. Most basic phrases I'd use can be found in the audio materials of any language course (online, software, CDs, apps, etc) geared toward travelers.

Find someone to speak the language with right away, no matter how little you've learned. It could be a travel partner, a friend who speaks the language, or someone you meet online who is willing to teach you your new language in exchange for you helping them with English, but just start speaking it as soon as you possibly can.

Use flash cards or an app (Anki [available for iOS, Android and computer

]

and Memrise [iOS/Android/computer] are both good) to drill yourself and master new phrases.

Be consistent. Even if it's just a few minutes at a time, spend some time on your new language every day.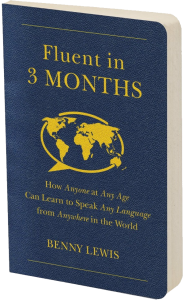 Benny Lewis's book Fluent in 3 Months (which I reviewed in this month's [May 2014] issue of Travel Beyond Excuse Magazine) provides some really excellent tips for language learning, so if you're serious about learning a language (anything from the basics up to mastery), I highly recommend picking up a copy and using the strategies that Benny talks about. After reading it I am motivated to go back to language learning and master a third language (and eventually a 4th, 5th, and more). French should give me a lot more country options, so I think I'll tackle that one next! Benny Lewis's article on the advantages of English-free travel as well as an article by Maneesh Sethi on how to learn a language in 90 days are also in this month's issue, so grab the magazine on iTunes or Google Play and read it now!
What about you? Do you think it would be advantageous to learn at least some of a language before traveling abroad? How do you feel about learning other languages? Do you plan to ever learn another language, and if so, which one? Have you learned any other languages already? Do you have some helpful suggestions to add to my 5 tips above? Comment below! All commenters will be entered into a random drawing for Benny Lewis's book, Fluent in 3 Months! Winner will be announced in June!
CLICK HERE! Download Your FREE Resources: A Travel Grants Spreadsheet, Travel Mind Map, and Packing List!