August 2014: Travel for Teachers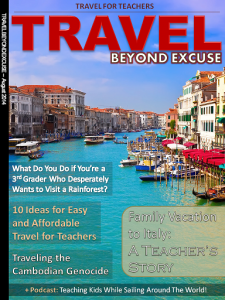 UPDATE: This issue is now available for sale in PDF format.  CLICK HERE to buy it now!
This month's issue was compiled with teachers in mind.  As they return to their classrooms this month, I'd like to plant a little seed of excitement for the coming year.  How about a trip abroad next summer?  Not possible on a teacher's salary, you say? I hope that the articles in this issue will convince teachers and others that not only is it possible, but as a teacher, travel can revitalize not just you but your classroom lessons as well.
As a fellow teacher, I have a special place in my heart for educators.   I also have a special place in my heart for travel, because I believe that the more we learn about our world and teach others about it, the less we will fear people who are different from us, and as the young minds of today learn to appreciate, understand, and tolerate those who are different from them, the world can be transformed into a more peaceful place.  Is this a trifle naïve?  Perhaps, but it is my biggest dream.
Travel.  Encourage your children and students to travel as soon as they are old enough to do so.  Show them pictures, tell them stories, and bring back objects from abroad for them to feel.  Bring their geography, social studies,  history, science and language lessons to life.  And travel for YOU.  Change your pace.  Pursue your interests and hobbies in new and distant lands.
As you read this issue, I hope that you are inspired to travel for personal development, to enhance your family life, and to enrich your classroom lessons.  Learn about Amazon workshops for teachers in "What Do You Do if You're a Third Grader Who Desperately Wants to See the Rainforest?" by Christa Dillabaugh.  Get ideas and inspiration for planning your next trip with "10 Ideas for Easy and Affordable Travel for Teachers" by Sherry Posnick-Goodwin.  Join Cliff Dolph on his family vacation to Italy in the cover article of this issue.  Be inspired by Bo Cordle's bucket list, and learn how you and your students can follow him around the world on his upcoming sailing trip, in Travis Sherry's podcast.  Travel can be educational in a hard way, too; we all know that history hasn't been all kittens and rainbows.  But learning about the difficult aspects of our world's past—as Noah Lederman did in "Traveling the Cambodian Genocide"—may help us and our students from repeating these awful acts in the future.
So…where are you off to in the summer of 2015?
CLICK HERE to get this issue in PDF format now!
CLICK HERE! Download Your FREE Resources: A Travel Grants Spreadsheet, Travel Mind Map, and Packing List!