August 2014: Travel for Teachers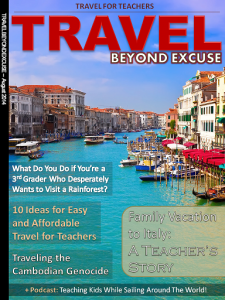 UPDATE: This issue is now available for sale in PDF format.  CLICK HERE to buy it now!
This month's issue was compiled with teachers in mind.  As they return to their classrooms this month, I'd like to plant a little seed of excitement for the coming year.  How about a trip abroad next summer?  Not possible on a teacher's salary, you say? I hope that the articles in this issue will convince teachers and others that not only is it possible, but as a teacher, travel can revitalize not just you but your classroom lessons as well.
As a fellow teacher, I have a special place in my heart for educators.   I also have a special place in my heart for travel, because I believe that the more we learn about our world and teach others about it, the less we will fear people who are different from us, and as the young minds of today learn to appreciate, understand, and tolerate those who are different from them, the world can be transformed into a more peaceful place.  Is this a trifle naïve?  Perhaps, but it is my biggest dream. Continue reading