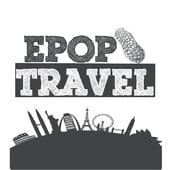 My most favorite podcast ever is Travis Sherry's Extra Pack of Peanuts Travel Podcast, and if you've been hanging around my website here looking for some good travel tips, then you'd definitely also love Trav's podcast which always has a ton of them!  CLICK HERE to open up his podcast page and check it out.
So one of Trav's recent podcast guests was Sasha Martin, from GlobalTableAdventure.com.  A few years ago, Sasha set out to cook a meal from every single country in the world–all 196 of them–and she did it!  On her blog, she recorded her quest and shared all of her recipes.  Trav and Sasha shared a listener challenge on the podcast to get as many people as possible to cook one or both of two possible recipes.   CLICK HERE to open the show notes page for the episode on Extra Pack of Peanuts.  I was glad that both options were vegetarian, and chose to try the Roasted Pumpkin Salad with Arugula and Chevre, which comes from Argentina (I'll attempt the Guinness Cake from Ireland some other day).
A little background: you may be aware that my husband and I travel and move around a lot.  (In the past year we have lived in Colorado, Oklahoma, Ecuador, Wyoming and Kansas–each for 2 months or more.)  We have a home base in eastern Kansas near Keith's family–it consists of property and a storage shed–but we have no permanent home anywhere.  Right now we are spending a few months in Kansas, basically camping in the storage shed, while we build an earthbag house for Keith's parents.   As storage shed dwellers, we don't exactly have a full-blown kitchen, but we make it work with a propane stove, toaster oven, various small appliances and a picnic table.  Thanks to my in-laws, we also have a garden on the property, from which I procured butternut squashes and fresh mint for this challenge.  Here's the challenge video:
Incidentally, if you'd like to travel more, did you know that cooking more will help you achieve your travel goals sooner?  It's true!
Think about it:
For one, if you cook more at home and eat out less, you'll be able to save all that extra money toward your travel funds.
Additionally, if you can learn to cook more while you travel, rather than eating out for every single meal, then your travel dollars will last much longer–especially if you're traveling as a family!
When you travel, find out where the locals shop and see if you can plan at least some of your meals away from the restaurants.  Picnic lunches and/or dinners can help save your budget.
If you're staying in a hostel, couchsurfing, renting a place through AirBnB, doing a home exchange or house sitting, you may even have access to a better kitchen than I have right now!
Even without access to a kitchen, there are many easy things you can make with a few basic utensils.  Here are some random foods I've made or bought while traveling:
Peanut butter & jelly sandwiches
Instant soups/mashed potatoes/oatmeal/grits/etc. using hotel room coffee pots to make the hot water (often gas stations also have hot water dispensers on their coffee machines and usually let me take some hot water for free if I bring my own cup, at least around the U.S.)
Fruits & veggies such as bananas, baby carrots, oranges, and anything else as long as I can peel it or wash it somewhere
Chips/crackers & hummus/guacamole/salsa/bean dip
Dried fruit, nuts
Bread from local bakeries, or fresh hot tortillas in Mexico & parts of the U.S.
Do you have any easy foods you make while traveling?  Do you have any great recipes for easy meals to make here in the US to help keep you from spending as much money eating out?  Share your thoughts in the comments below!
Also, be sure to CLICK BELOW to sign up for my free Travel Beyond Excuse e-newsletter and get my free travel mind map for teachers (and anyone else who wants to learn how to travel more affordably)!
Happy Travels!
CLICK HERE! Download Your FREE Resources: A Travel Grants Spreadsheet, Travel Mind Map, and Packing List!